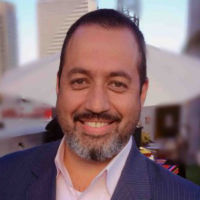 Hugo Balta
Senior Director,
Multicultural Content
ESPN
I'm an experienced, award winning Broadcast & Digital Media professional directing growth, change and innovation in several divisions and businesses for English and Spanish language media in the U.S. and LATAM.
My career includes working within established structures, but applying entrepreneurial strategies in developing new processes in conceptualizing and producing content.
I implement intersectional thinking in nurturing relationships to generate messages relevant to multicultural audiences across all platforms; often launching new programming.
I'm fortunate to benefit from the generosity of talented professionals who have been key in helping me reach personal and collective goals. It is my responsibility to do the same for others.
To that end, I work with many organizations which champion the fair treatment of Latinos and people of color. I am a lifetime and HOF member of the National Association of Hispanic Journalists (NAHJ), served as its president and started the Hortencia Zavala scholarship.
I'm a member of the advisory board for the National Hispanic Media Coalition (NHMC), Hispanicize and National High School Basketball Association (NHSBA). I'm a board member of the New England chapter of the National Association for Multi-Ethnicity in Communications (NAMIC).
I'm also the co-founder of the Latino Multimedia Communicators social media group which shares, discusses and supports professionals and their strategies/products of interest to the Latino community. Find us on Facebook.
I design, collaborate and lead diversity and inclusion workshops and discussions; frequently as a guest on radio/television and speaker at events and classrooms.
I am a best selling author sharing my experience in monthly articles (many published by renowned organizations) and a new book: Leadership Habits.