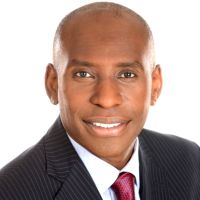 Rudy N. Brioché
Global Public Policy and Policy Counsel
Comcast Corporation

Rudy N. Brioché serves as Vice President for Global Public Policy and Policy Counsel for Comcast Corporation. In this role he focuses on the development of the company's public policy positions and legislative analysis.
Prior to joining Comcast, Rudy served as Legal Advisor to Commissioner Jonathan S. Adelstein at the Federal Communications Commission and Legislative Counsel to U.S. Senator Frank Lautenberg (D-NJ). In these roles, he focused on media and broadband policy.
Earlier in his career, Rudy practiced law as a commercial litigator in New York City and Baltimore, and served as Counsel to the Washington Bureau of the National Association for the Advancement of Colored People. He also clerked for Judge André Davis on the U.S. District Court for the District of Maryland and Chief Judge Robert Bell on the Maryland Court of Appeals.
Rudy received a B.A. from Rutgers College, a J.D. from the University of Maryland, and an M.A. in Public Policy from Harvard Kennedy School.